English
This project was born with the goal of focusing on the health and safety at work of pregnant women and women in breastfeeding periods. Motivated by the risks they are exposed to during their working day such as intense noises, thermal stress and gases from multiple sources (thermal degradation and solvents or lubricants applied in the pelletizing processes), the main objectives of this project are to provide a decision tool for factory managers to adapt the tasks of the target employees in the company or even to adapt the production schedule of the working day of these employees to facilitate risk-free work-life balance for the pregnant woman and later, the lactating infant. To assure compliance with occupational therapy regulations and recommendations.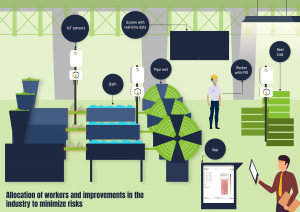 This objective can be achieved nowadays thanks to the new and available IoT technologies that allow to take real-time measurements on specific positions on the factory plants without interfering with the work on the plant. By collecting and analysing air quality data, the plant manager can replan the employee's tasks to limit the time of exposure. Additionally, it is possible to identify specific high emitting materials and processes, trace the contamination of the vapours produced by the extrusion. Moreover, one could optimize machine and process parameters to minimize emissions.
An interdisciplinary team has been established to determine the requirements, to choose the tools used for implementing the tests in the factory and to evaluate the collected results.
The test have been performed in Murcia (Spain) at Lisanplast S.L., an extrusion of polymers plant and part of the Equality consortium.


              Grant agreement No 777455