English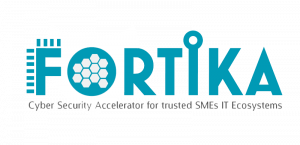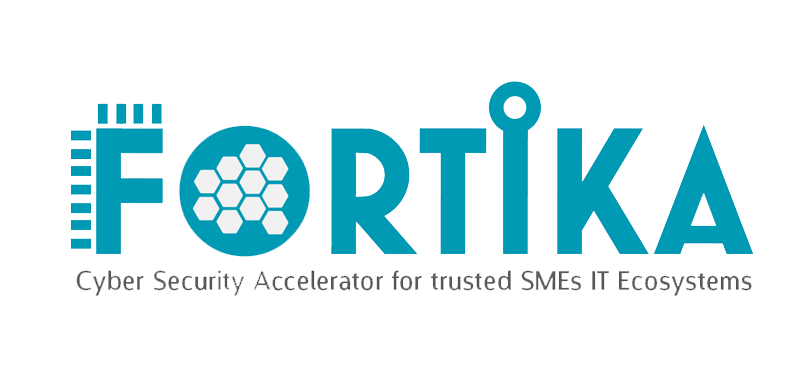 Digital technologies driving an increasingly connected world of people, guarantee a lucrative future for cyber-security companies, and this connection can become a big headache for businesses, especially the small ones. According to Symantec, 60% of targeted attacks in 2015 aimed at small businesses. 77% of all cyber-crimes target SMEs. Currently, cyber-security solutions for businesses are designed to provide multilayer proactive protection.
Because of the complexity of these tasks, no-single security solution can address the whole threats landscape in a practical and effective way.
The main objectives of the FORTIKA project is to provide an embedded, smart and robust security layer enhanced with an adaptive data security management tool; create a B2B cybersecurity marketplace for SMEs that allows an easy access to trusted, existing and peer reviewed solutions, and to comparative data based on functional characteristics and prices; and provide tailored cybersecurity insights in line with each SME needs -tailored security services are highly sensitive to the context and the user requirements, and a service may not require the same level of adaptation, therefore various levels of adaptation are needed in ICT services; offer a novel architecture for the provision of highly adaptive cybersecurity services and intelligence dynamically adjusted to the changing needs of SMEs; apply a behavioural analysis to determine and evaluate the risk level of organizational processes and/or individual behaviours with the aim of automatically implementing appropriate incentives for behavioural change and awareness raising; validate the proposed technology and the commercial framework through demonstrations in medium and small businesses; perform all required activities to improve the overall cybersecurity performance of the digital and modern ecosystem of SMEs and create a secure and uninterrupted information system, offering a wide variety of tailored information security services.
To fulfil its vision, the project adopts a hybrid security approach through a design that adequately integrates hardware and software with business needs and behavioural patterns at individual and organizational level to introduce a hardware-enabled middleware security layer as add-on to existing network gateways, and guide small businesses users towards trusted cybersecurity services. In sum, Fortika proposes a resilient overall cybersecurity solution that can be easily tailored and adjusted to the versatile and dynamically changing needs of a small business.
The Fortika middleware will be easily adopted or embedded on existing networks and each user/administrator will be able to choose from a number of security services available through Fortika trusted security marketplace. In order to a service to become available in the marketplace, a series of criteria have to be fulfilled: usability, relevance, operational transparency and security effectiveness.
The introduction of a software- defined smart ecosystem in "FORTIKA marketplace" will provide a solution, which will offer virtualized security services. From their perspective, users may use a variety of services and share profile information with the service providers in return for tailored security services aligned with their real needs.
Ultimately, Fortika also aims to minimize the exposure of small and medium businesses to cybersecurity risk and threats, and help them successfully respond to cybersecurity incidents, while relieving them from all unnecessary and costly efforts of identifying, acquiring and using the appropriate cybersecurity solutions.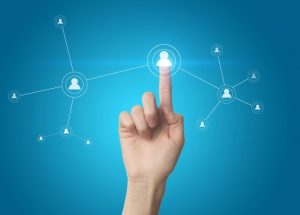 The contribution of HOPU in this project consists in developing a platform service that enables sharing of FORTIKA projects. The FORTIKA marketplace will enable service providers to specify complete services (the required software, hardware and resources) and sell and advertise these through a secure and easy to use interface. The different issues that HOPU address in this project include payment, quality of service and integration with existing resource databases.
Also we will carry out a study about the applicability of integrating the marketplace with other compliant resources (for example, databases and web shops) in order to provide a live view of available services and their associated costs.
HOPU will valorise and evolve the existing edge computing orchestration architecture, intelligence distribution capabilities and network infrastructure with new edge services for the threats detections, traffic behaviour analysis for anomalies detection, intrusion detection subsystem, behaviours modelling from IoT-related devices such as security systems (motion sensors, alarms, etc.), wearables and other Internet connected objects. These services will be interconnected with the Decision Support System for the prevention, detection, control and mitigation of cyber-threats.
HOPU has a strong background in security for end-devices, networks management and innovative security mechanisms such as data processing with homomorphic cryptography and distributed data storage with blockchain that will be considered in case of the required services for preventing cyber-threats and data leaks from the SMEs that will be targeted with the suite provided by FORTIKA.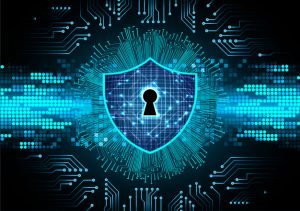 Contribución en el proyecto FORTIKA por HOP Ubiquitous

Español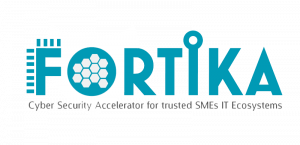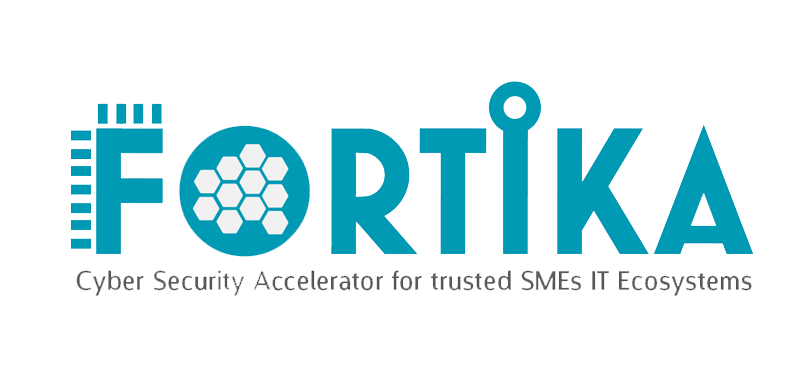 Las tecnologías digitales impulsan cada vez más un mundo más conectado, garantizando un futuro lucrativo para las compañías de ciberseguridad, y esta conexión puede llegar a ser un quebradero de cabeza para las empresas, sobre todo las pequeñas. Según Symantec, el 60% de los ataques perpetuados en 2015 estaban dirigidos a pequeñas empresas. El 77% de todos los delitos cibernéticos se dirigen a las pymes. En la actualidad, las soluciones de ciberseguridad para empresas están diseñadas para proporcionar protección proactiva multicapa.
Debido a la complejidad de estas tareas, ninguna solución de seguridad única puede abordar de manera práctica y efectiva todo el panorama de amenazas.
El proyecto FORTIKA tiene como principales objetivos proporcionar una capa de seguridad integrada, inteligente y sólida mejorada con una herramienta de gestión de seguridad de datos aceptable; crear un mercado B2B se seguridad cibernética para las PYMES que permitan un acceso fácil a las soluciones confiables, existentes y revisadas por pares, y a los datos comparativos sobre la base de las características funcionales y los precios; proporcionar conocimiento de seguridad cibernética adaptados a las necesidades de cada PYME. Los servicios de seguridad personalizados son muy sensibles al contexto y a los requisitos del usuario, y un servicio puede no requerir el mismo nivel de adaptación por lo que se necesitan varios niveles de adaptación en los servicios TIC; ofrecer una arquitectura novedosa para la provisión de servicios e inteligencia altamente adaptativos ajustados dinámicamente a las necesidades cambiantes de las pymes; aplicar un análisis de comportamiento para determinar y evaluar el nivel de riesgo de los procesos institucionales y/o comportamientos individuales con el objetivo de implementar automáticamente los incentivos apropiados para el cambio de comportamiento y la mejora de la conciencia; validar la tecnología propuesta y el marco comercial a través de demostraciones en medianas y pequeñas empresas; realizar todas las actividades requeridas para mejorar el rendimiento general de ciberseguridad del ecosistema digital y moderno de las pymes y crear un sistema de información seguro y sin interrupciones, ofreciendo una amplia variedad de servicios de seguridad de la información a medida.
Para cumplir su visión, el proyecto adopta un enfoque híbrido de seguridad mediante un diseño que integra hardware y software con las necesidades del negocio y patrones de comportamiento a nivel individual y organizacional para introducir una capa de seguridad de middleware habilitada para hardware como complemento a las pasarelas de red existentes, y orientar a los usuarios de pequeñas empresas hacia servicios de ciberseguridad de confianza. En suma, FORTIKA propone una solución de ciberseguridad global resistente que se pueda adoptar y ajustar fácilmente a las necesidades versátiles y dinámicamente cambiantes de las pequeñas empresas.
El middleware Fortika será adoptado fácilmente o integrado en las redes existentes y cada usuario / administrador podrá elegir entre una serie de servicios de seguridad disponibles a través del mercado de seguridad de Fortika. Para que una empresa pueda ofrecer sus servicios en el mercado se tienen que cumplir ciertos criterios, las especificaciones tienen que cumplirse en términos de usabilidad, relevancia, transparencia operativa y eficacia de la seguridad.
La introducción de un ecosistema inteligente definido por software en FORTIKA Marketplace proporcionará una solución que ofrecerá servicios de seguridad virtualizados. Desde su perspectiva, los usuarios pueden utilizar una variedad de servicios y compartir información de perfil con los proveedores de servicios a cambio de servicios personalizados alineados con sus necesidades reales.
En definitiva, FORTIKA tiene como objetivo primero minimizar la exposición de las pequeñas y  medianas empresas a riesgos y amenazas de seguridad cibernética. Y segundo, ayudarlos a responder con éxito a incidentes de ciberseguridad al tiempo que los alivia de todos los esfuerzos innecesarios y costosos de identificación, adquisición y uso de las soluciones de ciberseguridad apropiadas.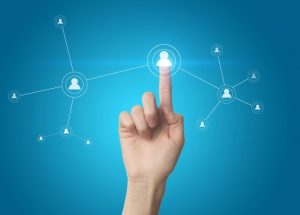 La contribución de HOPU en este proyecto consiste en el desarrollo de un servicio de plataforma que permite compartir servicios de ciberseguridad de FORTIKA. El mercado de FORTIKA permitirá a los proveedores de servicios especificar los servicios completos (el software, el hardware y los recursos necesarios) ofreciendo la posibilidad de venderlos y publicitarlos a través de una interfaz segura y fácil de usar. Los distintos temas que HOPU aborda en este proyecto incluyen el pago, la calidad del servicio y la integración con las bases de datos de recursos existentes.
También se llevará a cabo un estudio sobre la aplicabilidad de integrar el mercado con otros recursos compatibles (por ejemplo, bases de datos y tiendas web) para proporcionar una vista en vivo de los servicios disponibles y sus costos asociados.
HOPU valorizará y evolucionará la arquitectura de orquestación, las capacidades de distribución de inteligencia y la infraestructura de red con nuevos servicios para detección de amenazas, análisis de comportamiento de tráfico para detección de anomalías, subsistema de detección de intrusos, modelado de comportamientos de dispositivos relacionados con IoT como sistemas de seguridad (sensores de movimiento, alarmas, etc.), wearables y otros objetos conectados a Internet. Estos servicios estarán interconectados con el Sistema de Soporte de Decisiones para la prevención, detección, control y mitigación de amenazas cibernéticas.
HOPU tiene una sólida experiencia en seguridad para dispositivos finales, administración de redes y mecanismos de seguridad innovadores como procesamiento de datos con criptografía homomórfica y almacenamiento de datos distribuidos con blockchain que se considerarán en caso de los servicios requeridos para prevenir amenazas cibernéticas y datos filtraciones de las PYMES que serán identificadas con el paquete provisto por FORTIKA.