English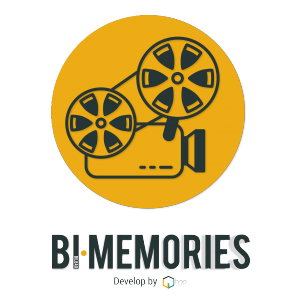 On November 30 at the University of Deusto, Bilbao, Basque Country, Spain. WeLive Hackathon presented the top 4 finalist, which gave solution to challenges proposed by the city of Bilbao. Our Smart Destination solution BI·Memories was awarded as the best application and solution.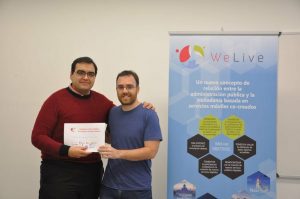 WeLive is a platform for co-creation of mobile applications that meets the needs of citizens. It acts as a link among citizens, city and developers, who join forces to solve the challenges that the cities of Bilbao, Trento, Helsinki and Novi Sad publish in the platform. The Hackathon WeLive proposed by the city of Bilbao aimed to create a mobile application that would respond to the needs of the citizens and stakeholders of Bilbao. WeLive, together with its collaborators, Tecnalia, University of Deusto, Bilbao City Council, Engineering, among others, awarded BI·Memories as the best application of Hackathon WeLive Bilbao.
BI·Memories is a solution to respond to the need of cities to conserve and disseminate their intangible cultural heritage (as defined by UNESCO). This project preserves and disseminates the intangible cultural heritage of Bilbao with the aim of relating stories, anecdotes and feelings around a physical area that complements tourism experiences. These personal stories allow us to create an emotional relationship that extends tourist experiences through the eyes of Bilbao citizens'. A process that involves the visitor, who enjoy, comments and vote through BI·Memories, at the same time that they feel as citizens for a day.
The essence of the city of Bilbao are the citizens and their popular stories that constitute the identity of a point of interest. These experiences enrich to population and involve visitors with the cultural heritage of the city, making them live unique and complete experiences. Through their mobile phones the citizens of Bilbao and their visitors can access exclusive and geolocated videos that tell the stories of the citizens of Bilbao about the point of interest. The videos are uploaded to YouTube and thanks to our Smart Spot (our smart devices) nearby users receive a notification on the mobile phone that gives them access to a Web-App where they can watch videos and much more information without the need to install any application on the mobile.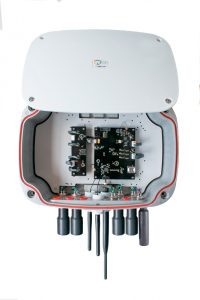 Smart Spot contextualizes the information of each point of interest sending notifications by proximity to mobile phones through Bluetooth Low Energy and WiFi Direct in a range of 1 to 80 meters, without installing any native App. In addition the device measures temperature, humidity, noise, air quality and Crowd Monitoring, which allows BI·Memories to show users the comfort of a place to facilitate the planning of their tourist routes.
The videos disseminated by BI·Memories in its Web-App does not last more than a minute and, being related to the tourist point, allows to live at the same time a physical and digital experience. For citizens to publish stories in BI·Memories, they need to upload to YouTube and assign a specific hashtag for each point of interest (#BIM + name of the point of interest) that allows to BI·Memories recognize and introduce them in the corresponding point of interest. All videos must comply with minimum requirements (videos must not last more than 1 min, must contain the Hashtag and the position of the video recording must be horizontal). Once the videos pass to BI·Memories, the Web-App shows them according to the weighting between the visualizations, the number of "likes" and the time that has been published, showing the content according to the preference of BI·Memories users.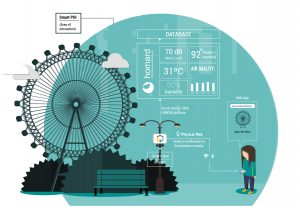 For the ideation of BI·Memories we made a co-creation process that is divided into different stages, the first one is to know the needs and interests of the citizens, so we use the City Living Lab of Ceutí, where we carry out different Workshops with citizens of all ages and with the City to identify the needs of the place. In this stage it was detected that a large part of the citizens of Ceutí had a great interest to preserve the stories of the past and to make known the connection they have with this territory. This project was born with the aim of adding the experiences of a town to the tourist experiences to involve visitors with the material and cultural heritage of Ceutí.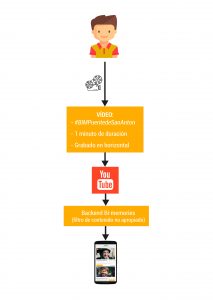 Once we detected the need and proposed the solution, we started using the prototype that helped us understand the dissemination of the town's stories. For this reason, the Web-App shows the content in a one-minute video, capturing the attention of the users. These contents contextualize the information about real experiences in a physical place. In addition, the tool is disseminated by Physical Web, thereby, users do not have the need to download any App, freeing space on the user's Smartphone and opening endless viewing possibilities.
Anecdotes and personal experiences, human tourism for humans, through citizens, Smart Spot and the intangible heritage of each city.
We adapted the prototype of Ceutí to the city of Bilbao through the Hackathon Go App Bilbao, where we had the collaboration of two mentors who helped us understand the needs of Bilbao. The content of the Web-App will be generated by the citizens and it will be updated by the same people from Bilbao. In addition, BI·Memories connects tour guides with visitors to make trips through the city.
The first point deployed in the city of Bilbao is within the University of Deusto, specifically in the "Plaza de la Memoria". Starting from this point and as part of the co-creation process, we contacted Bilbao citizens and media to know their interest in the project.
Within the process of co-creation, the last stage was the use of the WeLive tool, which allowed us to know the challenges proposed by the city of Bilbao, to know the needs of its citizens and to publish BI·Memories in the ideation space, where all those interested could comment the Web-App for its improvement and evolution. WeLive also helped us to the development of the Web-App, since it put at our disposal Building Blocks (small modules programmed to bring our solution to reality), open data repositories about events, and a Marketplace where to publish the solution for the citizens of Bilbao.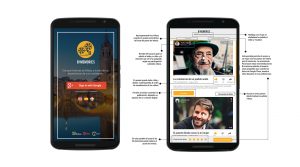 We will continue with this proposal towards a new type of tourism, Smart Destination, in which provide agile experiences are offered that invite co-creation and citizen participation in the generation of content. BI·Memories, as a finalist of the first phase in GoApp Bilbao, participates in the second phase of this Hackathon, called CimuBISARIA, with which the Web-App will be launched in the Google Store and iOS Store this December.
BI·Memories gana el Hackathon de WeLive para la ciudad de Bilbao.

Español
El pasado 30 de noviembre, en la Universidad de Deusto, tuvo lugar el acto de presentación de las Apps finalistas en el Hackathon de WeLive que daban solución a retos propuestos por la ciudad de Bilbao. Nuestra solución de turismo inteligente BI·Memories fue premiada como la mejor aplicación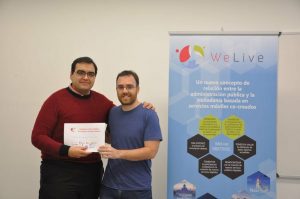 .
WeLive es una plataforma para la co-creación de aplicaciones móviles que satisfagan las necesidades de los ciudadanos. Actúa como enlace entre la ciudadanía, el ayuntamiento y los desarrolladores que uniendo fuerzas dan solución a los retos que las ciudades de Bilbao, Trento, Helsinki o Novi Sad publican. El Hackathon WeLive propuesto por la ciudad de Bilbao tenía como objetivo crear una aplicación móvil que respondiera a las necesidades de los ciudadanos y agentes de Bilbao. WeLive, junto con sus colaboradores, Tecnalia, la Universidad de Deusto, el Ayuntamiento de Bilbao, Engineering, entre otros, premiaron a BI·Memories como la mejor aplicación del Hackathon WeLive Bilbao.
BI·Memories, una solución para responder a la necesidad de las ciudades de conservar y difundir su patrimonio inmaterial (como define la UNESCO). Este proyecto conserva y difunde el patrimonio inmaterial de Bilbao con el objetivo de relacionar historias, anécdotas y sentimientos en torno a un punto físico que complemente las experiencias turísticas. Estas historias personales nos permiten crear un vínculo emocional que nos muestra las experiencias turísticas a través de los ojos de los bilbaínos. Un proceso que involucra al visitante, que opina, comenta y vota y que lo convierte en ciudadano por un día.
La esencia de la ciudad de Bilbao son los ciudadanos y sus historias populares que constituyen la identidad de un punto de interés. Estas vivencias enriquecen a los habitantes e involucran a los visitantes con el tejido cultural de la ciudad, haciéndoles vivir experiencias únicas y completas. A través de sus teléfonos móviles los ciudadanos de Bilbao y sus visitantes pueden acceder a vídeos exclusivos geolocalizados que cuentan las historias de los ciudadanos de Bilbao sobre puntos turísticos. Los vídeos son subidos a YouTube y gracias a nuestros Smart Spot (unos dispositivos inteligentes) los usuarios cercanos reciben una notificación en el teléfono móvil que les da acceso a una Web-App donde visualizar vídeos y mucho más sin la necesidad de instalar ninguna aplicación en el móvil.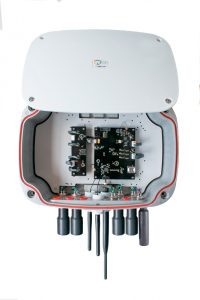 Los Smart Spot contextualizan la información de cada punto de interés mandando notificaciones por proximidad a los teléfonos móviles mediante Bluetooth Low Energy y WiFi Direct en un rango de 1 a 80 metros, siendo innecesaria la instalación de ninguna App nativa en la memoria del teléfono. Además el dispositivo mide temperatura, humedad, ruido, calidad del aire y el nivel de afluencia en una zona, lo que permite a BI·Memories mostrar a los usuarios el confort de un lugar para facilitarle la planificación de sus rutas turísticas.
El contenido que difunde BI·Memories en su Web-App no dura más de un minuto y al estar relacionado con el punto turístico, permite vivir a la vez una experiencia física y digital. Para que los ciudadanos publiquen vídeos en BI·Memories deben subirlos a YouTube y asignarle un hashtag específico para ese punto de interés ( #BIM + nombre del punto turístico) que permite a BI·Memories reconocerlos e introducirlos en el punto de interés correspondiente. Todos los vídeos deben cumplir con unos requisitos mínimos (los vídeos no debe durar más de 1 min, deben contener el Hashtag y la posición del grabado vídeo debe ser horizontal). Una vez que los videos pasen a BI·Memories, la Web-App los muestra según la ponderación entre las visualizaciones, el número de "me gusta" y el tiempo que ha estado publicado, mostrando el contenido según la preferencia de los usuarios de BI·Memories.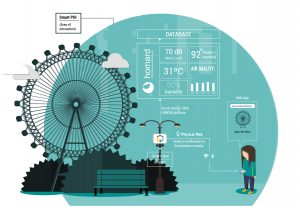 Para la ideación de BI·Memories realizamos un proceso de co-creación que se divide en diferentes etapas, la primera de ellas es conocer las necesidades y los intereses de los ciudadanos, por lo que utilizamos el City Living Lab de Ceutí, dónde realizamos diferentes Workshops con ciudadanos de todas las edades y con los encargados del Ayuntamiento para identificar las necesidades del lugar. En esta etapa se detectó que gran parte de los ciudadanos de Ceutí tenían un gran interés por conservar las historias del pasado y dar a conocer la vinculación que ellos tienen con este territorio. Este proyecto se nació con el objetivo de añadir las vivencias de un pueblo a las experiencias turísticas para involucrar a los visitantes con el patrimonio material y cultural de Ceutí.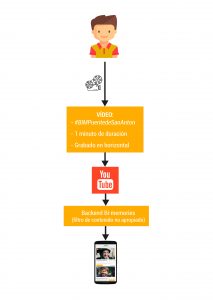 Una vez detectamos la necesidad y planteamos la solución, se empezó el prototipado que nos permitió comprender que la difusión de las historias del pueblo debían ser ágiles y sencillas. Por ello, la Web-App muestra el contenido en formato vídeo de un minuto de duración, captando la atención de los usuarios. Estos contenidos contextualizan la información proporcionando experiencias reales en un lugar físico. Además, la herramienta se difunde mediante Physical Web, por lo que los usuarios no tienen la necesidad de descargarse ninguna App, liberando espacio en el Smartphone del usuario y abriendo infinitas posibilidades de visualización.
Anécdotas y experiencias personales, un turismo por humanos para humanos, a través de los ciudadanos, de los Smart Spot y del patrimonio inmaterial de cada ciudad.
Adaptamos el prototipo de Ceutí a la ciudad de Bilbao mediante el Hackathon Go App Bilbao, donde contamos con la colaboración de dos mentores que nos ayudaron a comprender las necesidades de Bilbao. El contenido de la Web-App será generado por los ciudadanos y se irá actualizando por los mismos bilbaínos, liberando al Ayuntamiento de la tarea de mantener las Apps. Además, BI·Memories pone en contacto a guías turísticos con los visitantes para realizar travesías por la ciudad.
El primer punto desplegado en al ciudad de Bilbao se encuentra dentro de la Universidad de Deusto, concretamente en La Plaza de La Memoria. Partiendo de este punto y como parte del proceso de co-creación, contactamos con ciudadanos y medios de Bilbao para conocer su interés frente al proyecto.
Dentro del proceso de co-creación, la última etapa fue el uso de la herramienta WeLive, que nos permitió conocer los retos que proponía la ciudad de Bilbao, conocer las necesidades de sus ciudadanos y publicar Bi·memories en el espacio de ideación, donde todos los interesados podían opinar y comentar la Web-App para su mejora y evolución. WeLive también nos ayudó en el desarrollo de la Web-App, ya que puso a nuestra disposición Building Blocks (pequeños módulos programados para poder llevar a la realidad nuestra solución), repositorios de datos abiertos sobre  eventos y puntos turísticos y un Marketplace dónde publicar la solución para los ciudadanos de Bilbao.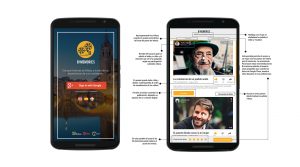 Vamos a continuar con esta propuesta hacia un nuevo tipo de turismo, el turismo inteligente (Smart Destination) en el que se proporcionan experiencias ágiles que invitan a la co-creación y a la participación del ciudadano en la generación del contenido. Bi-Memories, como finalista de la primera fase en GoApp Bilbao, participa en la segunda fase de este Hackathon, llamada CimuBISARIA, con la que se lanzará la Web-App en Google Store e iOS Store este mes de diciembre.