English
February 8, Hop Ubiquitous will implement the Siidi project in Aarhus, an innovative co-creation tool for the citizen. Siidi searches for promote the collaboration and involvement of people in the design and development of cities of the future.
Siidi is one of the citizen collaboration projects selected to help the city of Aarhus approach the smart cities, which will take place next February 8, for the testing of smart cities. Siidi will launch a collaborative Web platform with citizens thanks to beacon technology and Physical Web, capable of generating different physical points of interaction, "Smart POIs", in the innovative architectural structure of the city of Aarhus DOKK 1 and in the experimental district of Institut for X.  The Siidi experimental project is a channel of communication between the city and citizens, and encourages citizen participation in the design of new public spaces or validation of existing projects.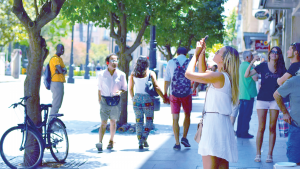 Siidi personalizes its interface and content according to the city, in order to achieve a user experience adapted to the sociological environment. The app is created for the sustainability of the city and optimum use of resources.
With the execution of the experiment a high participation of the population of Aarhus is expected. To promote the participation has been given maximum diffusion throughout the city by means of visual advertising and signage of the interaction points, and incentive to participate with the draw of an Ipad mini 2 among users. The modern Danish city will be able to enjoy this experimental technology until 31 March.