English
What is Physical Web?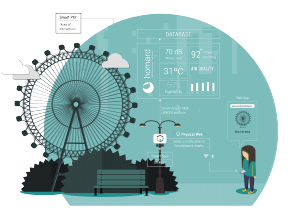 "The Physical Web is an effort to extend the core superpower of the web –the URL- to everyday physical objects". Scott Jenson.
Thanks to hardware devices called Beacons, Physical Web creates a communication channel that connects the physical and virtual worlds using the Bluetooth Low Energy connection to send "push" notifications to nearby Smartphones that are in their range of action. This connection does not need any tracker native app, only with Google Chrome installed and with bluetooth switched on every user can interact with digital content directly in this physical point.

Español
¿Qué es Physical Web?
"Physical Web intenta extender los superpoderes de la Web (URL) a todos los objetos físicos cotidianos". Sott Jenson.
Mediante unos dispositivos hardware llamados Beacons, Physical Web crea un canal de comunicación que conecta el mundo físico y el virtual, utilizando la conexión Bluetooth de bajo consumo para enviar notificaciones "push" por proximidad a los Smartphone que se encuentran en su radio de acción. Esta conexión no necesita ninguna app rastreadora nativa, solo con tener instalado el navegador Google Chrome en el dispositivo inteligente y con el Bluetooth encendido, el usuario puede interactuar con el contenido digital asignado a un lugar directamente en este punto físico.