English
A door to the impossible: IoT World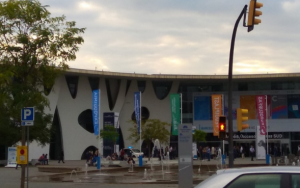 IoT World Congress received a large number of innovators and professionals showing the great investment and trust around IoT technological sector.
This event mobilized over 10,000 people from 70 different countries who enjoyed 3 full days of demonstrations, talks and exhibitions. The event was a proof of the revolution that the IoT has brought in multiple markets and in general about the new opportunities of interconnecting any kind of objects in our environment with the different digital services.
IoT technology opens a door to the impossible, creating an interconnection of physical objects to the Internet to establish bidirectional links with any element facilitating the collection of small pieces of data that integrated with all the available data sources are reaching the so-called Big Data, where we are already being witness of how this data revolution is supporting during all the phases of an industry, city or personal consumer life.
Nowadays, IoT is exploring and discovering new fields of action such as Smart Cities, an area, where IoT plays a decisive role in the development of smart infrastructures that promote more efficient management of these regions.
The use of IoT devices in Smart Cities improves the engagement of citizens in their communities as they allow the creation of efficient, agile and comfortable communication channels between the government and citizens; monitor the emission of gases (air quality); sustainable public lighting in conjunction with other public services such as waste management to reduce bad smells and toxic gases emissions and also better signaling, mobility management and safety.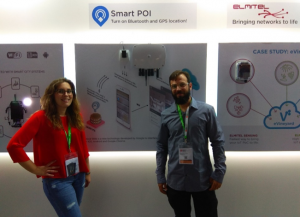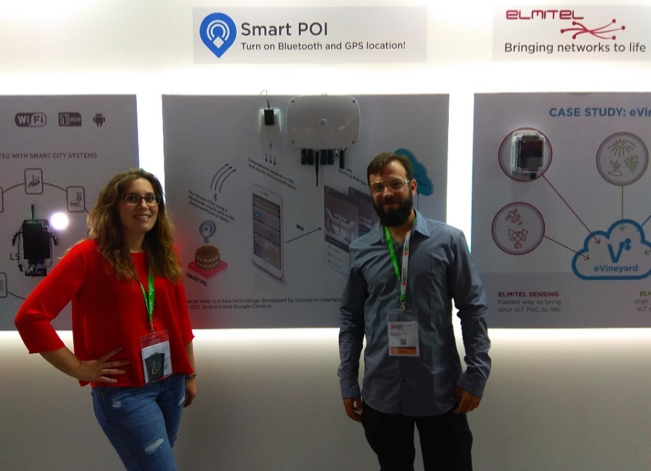 At the end of the day, a smart city process starts in the co-creation and communication with the citizens and that through multiple actions in multiple domains, converge into a common benefit in the enhancement of the wellness and quality of life for our cities and their citizens, i.e. ourselves.
All these solutions fit within the IoT, and in particular the approach defined by the FIWARE platform and FIWARE ecosystem. FIWARE presented at the IoT World Congress its different solutions that developed a common management structure to facilitate the integration of different devices with each other and in the cities.
FIWARE is a community that join different technology companies for the development of an open ecosystem around cities to integrate multiple solutions in a common structure and so they are fully interoperable with each other, feedback and build a deeper environment that takes to the development of more functional smart cities. The development of these platforms is key to the growth and functionality of Smart Cities, for this reason we are committed to initiatives such as Open and Agile Smart Cities (OASC) association with over 100 cities enrolled and FIWARE technology as th basis for making it feasible.
HOP Ubiquitous as a Gold Member of the FIWARE Foundation, was al present in the presentation of how FIWARE and the solutions from HOP Ubiquitous are contributing to the creation of adapted and standardized solutions to satisfy the described process from the co-creation and citizens engagement to the deployment of solutions based on IoT to reach the digitalization and enhancement of different areas in the city.
As part of the FIWARE community, we show our solution in the IoT World Congress, HOP Ubiquitous presented the Smart Spot product, which is the commodity solution from HOP Ubiquitous, which offers a versatile solution to interact with citizens at the same time that  collects relevant ambient data.  Read more about HOP Ubiquitous solutions: brochure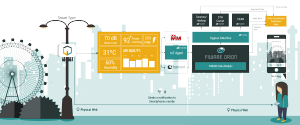 In details, Smart Spot collects temperature data, humidity, air quality parameters (NO2, SO2, O3, H2S, etc.), crowd monitoring (counting people via WiFi around), noise levels and transmit them to any FIWARE-based cloud platform such as our partners NEC, Telefonica, Engineering, Orange and ATOS from the FIWARE Foundation, as our own platform based on FIWARE, Homard. Smart Spot are incorporated into the FIWARE infrastructure through the IoT Agent that connects with FIWARE's ORION CONTEX BROKER, which allows the integration of Smart Spot with other solutions and communication with other devices that offer more functional and complete solutions.
Smart Spot are small devices that have the ability to create an area of interaction with citizens and visitors. These devices send a URL (Web page link to open it in any browser such as smart phone Internet browser) to allow users to connect to online content and discover websites from physical locations. In addition, as mentioned Smart Spot measures air quality, temperature and humidity; they also collect data on the energy consumption or the noise level in the atmosphere and act as a person counter (Crowd Monitoring), allowing to estimate the comfort level of different zones.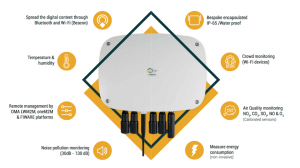 At the IoT World Congress we present, together with other solutions SmartSDK project that is carried out jointly with FIWARE. For SmartSDKthe Smart Spot creates a point of interaction with citizens and visitors to provide them with information about relevant places in Mexico City together with environmental monitoring data. The devices are installed in the top of the bus fleet of the Technological Institute Tec de Monterrey, taking advantage of their routes to collect data and make them available to users on the public transport route. Thereby, Smart Spot contribute to the Smart City ecosystem of Mexico City in 5 pillars: environmental monitoring, commitments/engagement with citizens, tourism and open data together with Open Interfaces (FIWARE).
Tercera edición del IoT World Congress, Barcelona 2017.

Español
Una puerta a lo imposible: el mundo del IoT.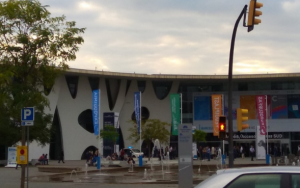 El IoT World Congress acogió a un gran número de innovadores y profesionales mostrando la gran apuesta que existe en el sector tecnológico de Internet de las Cosas.
Este evento movilizó a más de 10.000 personas de 70 países diferentes que disfrutaron de tres días repletos de demostraciones, charlas y exhibiciones que evidenciaban la revolución que el IoT ha supuesto en nuestra concepción de los objetos y entornos, permitiéndonos ser más eficientes y productivos, usando la tecnología para comunicarnos con ellos.
Esta tecnología abre una puerta a lo imposible creando una interconexión de objetos físicos a Internet para establecer vínculos bidireccionales con cualquier elemento facilitando la recolección de pequeñas piezas de información que se integran con todas las fuentes de datos disponibles, llegando al Big Data, donde ya estamos siendo testigos de cómo esta revolución de datos es compatible durante todas las fases de una industria, ciudad o vida personal del consumidor.
Actualmente, el IoT está explorando y descubriendo nuevos campos de actuación como el de las Ciudades Inteligentes, un entorno en el que juega un papel decisivo permitiendo el desarrollo de estructuras de dispositivos inteligentes que promueven una gestión más eficiente de estos territorios.
El uso de dispositivos IoT en las Ciudades Inteligentes mejoran la calidad de vida de los ciudadanos ya que permiten crear canales de comunicación eficientes, ágiles y cómodos entre la entidad pública y los ciudadanos, monitorean la emisión de gases (calidad de aire), sostenibilidad de la iluminación pública sostenible junto con otros servicios públicos como la gestión de residuos para reducir los malos olores y las emisiones de gases tóxicos y también una mejor señalización, gestión de la movilidad y seguridad.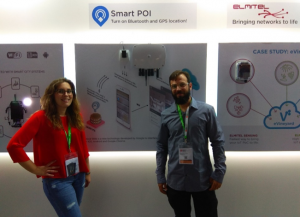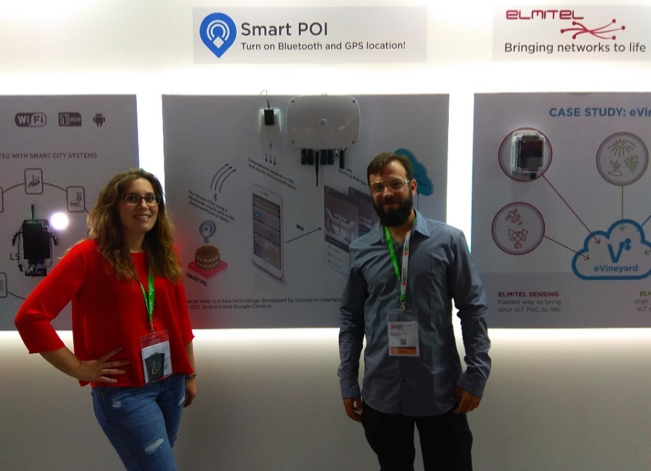 Todas estas soluciones se ajustan al IoT y, en particular, al enfoque definido por la plataforma FIWARE y su ecosistema. FIWARE presentó en el Congreso Mundial de IoT sus diferentes soluciones que desarrollaron una estructura de gestión común para facilitar la integración de diferentes dispositivos entre sí y en las ciudades.
FIWARE es una comunidad que une a diferentes empresas tecnológicas para el desarrollo de un ecosistema abierto en torno a las ciudades para integrar diferentes soluciones en una estructura común y que así sean totalmente interoperables entre sí, se retroalimenten y se construya un entorno más profundo que lleve al desarrollo de ciudades inteligentes más funcionales. El desarrollo de estas plataformas es clave para el crecimiento y la funcionalidad de Smart Cities, por esta razón estamos comprometidos con iniciativas como la OASC (Open and Agile Smart Cities) con más de 100 ciudades inscritas y la tecnología FIWARE como base para hacerlo factible.
Como miembros de oro de la FIWARE Foundation, estuvimos presentes en el IoT World Congress con FIWARE donde mostramos cómo nuestros productos están contribuyendo a la creación de soluciones adaptadas y estandarizadas. Comprometiéndonos con el despliegue de soluciones IoT para alcanzar la digitalización y la mejora de diferentes áreas de la ciudad, mejorando la calidad de vida de los ciudadanos.
Como parte de la comunidad FIWARE, mostramos nuestras diferentes soluciones basadas en el Smart Spot, nuestro dispositivo, que ofrece una solución versátil para interactuar con los ciudadanos al mismo tiempo que recopila datos ambientales relevantes.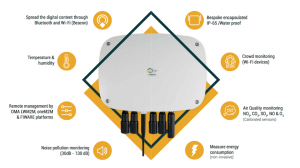 Lee más sobre las soluciones de HOP Ubiquitous: folleto.
En detalle, Smart Spot, tienen la capacidad de crear un área de interacción con los ciudadanos y visitantes; mediante Physical Web mandan una URL que permite que los usuarios se conecten con un contenido en línea y descubra webs desde lugares físicos. Además, recopila datos de temperatura, humedad, parámetros de calidad del aire (NO2, SO2, O3, H2S, etc.), monitoreo de multitudes (contando personas a través de WiFi) y niveles de ruido. Todos los datos recopilados son transferidos a cualquier plataforma basada en la nube de FIWARE; por ejemplo, a nuestros socios NEC, Telefónica, Engineering, Orange y ATOS de la Fundación FIWARE, o a nuestra propia plataforma basada en FIWARE, Homard. Smart Spot se incorpora a la infraestructura de FIWARE a través del IoT Agent que se conecta con el ORION CONTEX BROKER de FIWARE, que permite la integración de Smart Spot con otras soluciones y la comunicación con otros dispositivos que ofrecen soluciones más funcionales y completas.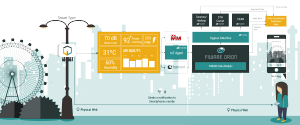 En el IoT World Congress presentamos, junto con otras soluciones el proyecto Smart SDK que se realiza conjuntamente con FIWARE. Para Smart SDK (link a web Smart SDK) los Smart Spot crean un punto de interacción con los ciudadanos y visitantes para proporcionarles información sobre lugares relevantes de la Ciudad de México junto con datos de monitoreo ambiental. Los dispositivos se instalan en la parte superior de la flota de autobuses del Instituto de Monterrey, aprovechando sus rutas para recoger datos y ponerlos a disposición de los usuarios en el recorrido del transporte público. De esta manera los Smart Spot contribuyen al ecosistema de la Smart City de la Ciudad de Mexico en 5 pilares: monitoreo ambiental, compromisos con los ciudadanos, turismo y datos abiertos junto con Open Interfaces (FIWARE).
Summary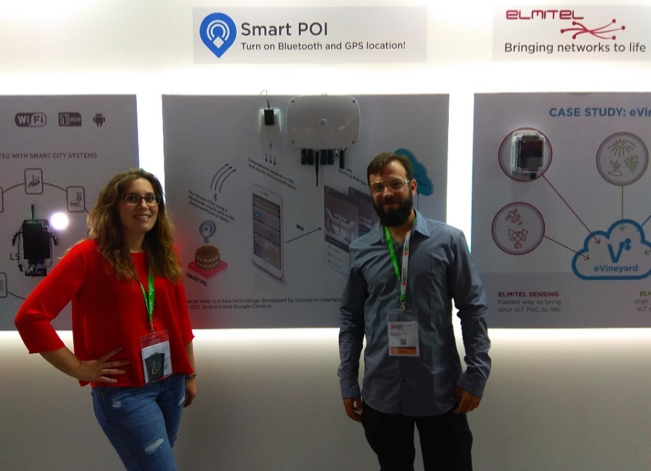 Article Name
Third edition of the IoT World Congress, Barcelona 2017
Description
The great discovery of #IoTWC2017, the Smart Cities and their application in the real world. FIWARE, the development of IoT and the standards environment.
Author
Publisher Name
Publisher Logo