Security and reliability in the data economy industry
Despite several attempts at research and innovation in the field of Big Data management and the integration and security of personal and industrial data, there is no widely accepted reliable and secure data marketplaces.
In this area there is, therefore, growing demand for a single data market economy in Europe, to be addressed through innovation in marketplace platforms, with the aim of demonstrating with industrial implementations that the growth of the data economy is possible.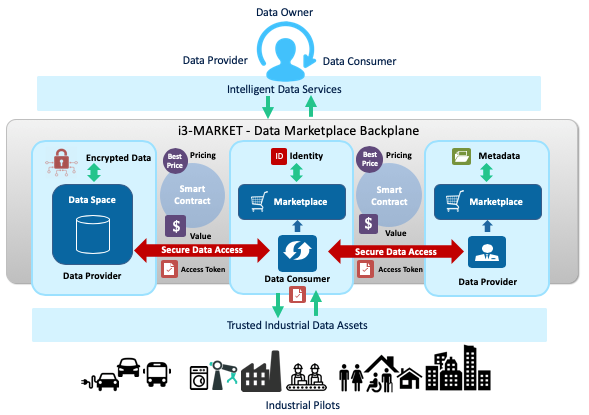 i3-Market marketplace design
Design of the i3-MARKET backplane
In this context, the i3-MARKET project arises as a solution capable of providing secure and reliable technologies, data-based collaborations and a federation of existing and future marketplaces, paying special attention to industrial data and, in particular, to the sensitive commercial data assets of both SMEs and large industrial corporations. The project, framed within the European Union's Horizon 2020 innovation and research programme, focuses on achieving the desired levels of privacy and confidentiality in marketplace platforms, supporting both legal and control and transparency aspects for data sharing between systems and services. This will be made possible through the creation of a decentralised, interoperable and trusted data backplane, which will allow the integration of multiple marketplaces for secure and privacy-preserving data exchange across data spaces. i3-MARKET, therefore, puts a special focus on the regulatory aspects around sensitive data assets by developing the necessary security and access control measures that enable secure data trading, including support for automated procurement (smart contracts including the legal framework required under European regulation) and real-time data exchange.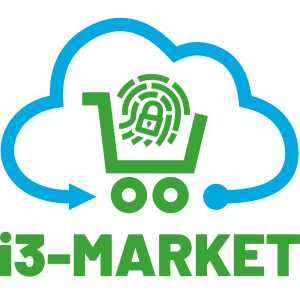 A federation of data marketplaces as the main objective
i3-MARKET will enable the development of the necessary elements to create a secure and reliable environment for both data providers and consumers, and thus encourage and enable the creation of a more reliable European data market economy
The aim of i3-MARKET is to enable a federation of data marketplaces and common objectives as key elements in adopting the European Commission's latest Digital Single Market strategy, encouraging the market economy of industrial data.
To this end, i3-MARKET is being developed on technologies and solutions that consolidate a trustworthy, secure, self-governing, consensus-based and auditable, interoperable (semantic-driven) and decentralised (allowing scalability) infrastructure, called the i3-MARKET Software Framework or "i3-MARKET Backplane", which enables the federation of existing and future data spaces and markets through interoperability. i3-MARKET's data backplane includes the ability to monetise data in the form of Intelligent Data Economy services, to deliver and share data and to reduce market entry barriers for providers to trade their data assets in order to ignite a thriving data economy that fosters innovation and business in Europe.
Contributions to strengthen competitiveness and confidence in data markets
In the global digital society, the loss of trust and reliability in data can be a major impediment to business. Data marketplaces, where success is largely due to consumers' confidence that they will get what they are paying for. This is a reputation model based on trust, which requires a lot of time but allows large current suppliers to be placed at a clear competitive advantage.
At i3-MARKET, the use of Distributed Ledger Technology (DLT), as a blockchain, will allow all payments and contracts made in the data marketplace to be reliably and immutably audited and verified. This, together with the execution of intelligent contracts, will allow consumers and suppliers to have confidence in the i3-MARKET.
HOPU participates as an expert in IoT systems
As part of the consortium, HOPU is focused on the integration and use of intelligent data services in a marketplace driven by adding value in data-driven services. For this reason, i3-MARKET will enable the demonstration of innovative use cases based on the federation of data assets from multiple sources ranging from manufacturing, automotive and human-centric computing to connected devices, etc.
The inclusion of a high level of confidence and security in intelligent data services and the demonstration of the value of data-based services will allow entry into a more scalable market, beyond the current IoT market, with contextual data integration. HOPU will exploit the results of the project to understand how to deliver solutions based on the data captured from the environment to determine a correlation with the actions taken in the environment.
An international multidisciplinary consortium
The i3-MARKET consortium is comprised of experts in the various areas necessary for the successful development of a data market ecosystem:
Industry leaders 4. 0
Experts in connected mobility and IoT solutions
The Presidency of the Big Data Value Association (BDVA) (SIEMENS AG)
Software and security experts (SIEMENS SRL)
Experts in software and systems integration and leaders in IoT solutions
Suppliers of hardware and software security technologies and solutions (IDEMIA-OBERTHUR)
Financial security experts (GFT)
Experts in management and security of information systems (IBM)
European DigitalSME Alliance representing the SME community with regard to the European data economy market
SMEs experts in the development of tools and services based on blockchain technologies for the industrial and financial data markets (Guardtime and Telesto)
Experts in IoT systems integration (HOPU)
Experts in systems analysis and IoT market studies (UNPARALLEL)
Collaboration with leading research institutes is also being key to key scientific input on semantic interoperability, counting on
BDVA Vice-Presidency (NUIG)
Experts in security and privacy based on blockchain technology (UPC)
Experts in business and economics (AUEB)