English
– What is Smart Destinations Tourism?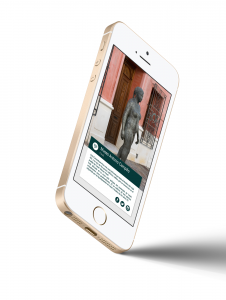 – What benefits does it have?
– How does it work?
– Where it can be applied?
– What is the HOP approach for Smart Destinations?
What is Smart Destinations Tourism?
HOP Ubiquitous launches the Smart Destinations Solution focused on the creation of tourist experiences through immersive interactions between physical places and personal devices such as Smart Phones. To this end, HOP Ubiquitous has developed an innovative device to be deployed in Points of Interest to make them interactive and smart; this device is called Smart Spots.
Smart Spot offers an interactive solution based on an innovative technology called "Physical Web", it means that Web pages and multimedia content are made accessible exclusively in
physical places through Bluetooth and WiFi connectivity, without requiring any native Application, simply by enabling WiFi or Bluetooth in the visitor*s smartphone to get a notification and start to interact with the venue.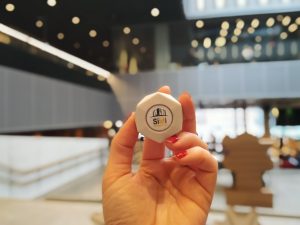 This tourist experience is designed to discover the city during a visit and to get notified about more exciting details, insights and tips that make much more natural and comfortable the experience, when we compare it with other solutions such as Tourism Apps with plenty of information totally out of context or nothing more than copy paste from online guide books. The proposed solution offers access to information at the proper time, at the proper place in order to enhance one*s experience in a specific physical place.
This socially designed experience promotes another type of interaction as well with the tourist, since it involves a co-creation process where experiences are augmented with culture, differences, emotions, and insights that contribute to the final user experience.
What benefits does it have?
Tourism developed through Smart Destinations is an application that allows the user to create their own experience, marking their own rhythm. Thereby, the mobile device is the new guide in an interactive way, connecting and discovering by proximity the interaction points, accessing all the information available and providing the proper insights and tips without requiring major attention. It is what we call an "agile experience".
3. How it works?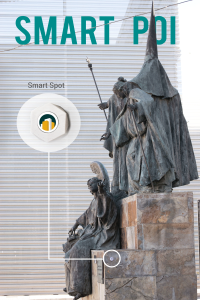 – First step: Join through the invitation you receive on your mobile phone in the points of interest or central areas of the destination you are visiting.
– Second step: Don't worry, just discover the city, you do not need to do anything else, smart spots that are near you in the points of interest will raise a notification to you when relevant content  is available based on  you, so you do not need to look for them, just enjoy, discover and insights / tips will flow to you in a natural way.
– Third step: Enjoy and access all the available information, take in local culture, shopping entertainment and offers, insights, suggestions etc.
– Step Four: Complete the experience with traditional or experimental food.
Where could it be applied?
We are an international company with a strong commitment to technology innovation and experiential development. HOP is defined as Human Oriented Products; therefore, our main focus is on the users, a reason why the development of tourism through Smart Destinations is available for installation in any part of the world. HOP Ubiquitous develops intelligent solutions supporting the sustainable development of your destination, committed to the socio-cultural and environmental aspects. Our Smart Spots are produced with encapsulations based on natural products; the original design, both indoor and outdoor, is designed to blend in as much as possible to the aesthetics of the point of interaction, while offering all the technological advances in terms of connectivity, outdoor protection for weather conditions, and with support to make totally green and sustainable through its solar power.
Nowadays, Smart Spots are being applied outdoor and indoor in cities such as Aarhus, Denmark, Mexico City and also in Ceuti, Murcia, Spain.
What is the HOP approach for Smart Destinations?
HOP Ubiquitous is approaching Smart Destinations through the Internet of Things (IoT) using technologies such as beacons, physical web, WiFi access points, etc.
Smart destinations implement and increase the use of technology by connecting different spaces offering services to people.
HOP Ubiquitous is committed to the process of a city that wants to carry out an active engagement of citizens and visitors, as part of an open and collaborative development of urban spaces. Thereby, citizens and visitors are both consumers and producers of information, improving the management, content and experience of your tourism resources.